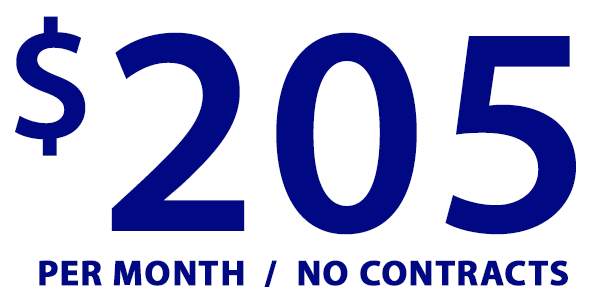 BUSINESS FIBRE 750
Downloads and Uploads up to 750 Mbps
Internet Lightspeed's Fibre Service gives your business access to the Internet and the world of business using the most current cutting edge technology. Our stable and secure plans are the competitive edge you are looking for in an Internet solution.
Our Business Specialists are always available during our standard office hours to assist you in choosing, or configuring, an Internet solution for your business. Or you can apply online for any of our popular pre-configured plans such as this one.
A setup fee of $100.00 is charged on all orders. In some instances, the installation could be higher and an additional cost analysis quote will be provided. In some situations and installation will not be quoted and may be refused install.
A $100.00 deposit is required for the WiFi Modem that will be supplied at the time of the install by the arriving technician. The deposit will be returned upon cancellation of service in accordance to the Internet Lightspeed Terms of Service.
Do you need a full featured business phone?
Internet Lightspeed offers a custom configured business phone solutions at low monthly prices. These digital phone services fit your business and can grow with it. Multi-line, PBX, Toll free Numbers, Virtual Numbers, Long Distance packages are just some of the features we can supply you with. Check out the details HERE or contact us today.
Download speeds, times and example given are indicative of ideal conditions and theoretical maximums. Individual results will vary based on many factors unique to your individual service, connection, equipment and environmental conditions. Speeds are listed for a physical connection between a single computing device and the modem via a traditional ethernet cable. Wifi speeds are affected by many factors including but not limited to, the router, WiFi band (frequency), distance between computing device and router, radio interference (microwave, cellphones,remote control devices, wireless appliances etc.), and other factors.
All pricing indicated on this website does not include any applicable fees, tariffs, or taxes.